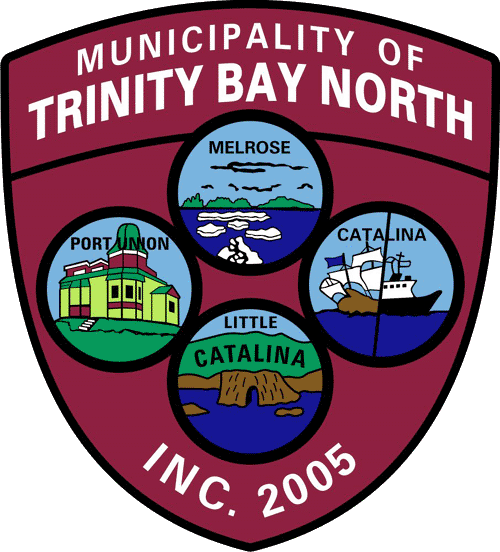 Welcome to the Catalina section of this website for the Town of Trinity Bay North (TBN) that came into existence on January 1st, 2005. TBN consists of Catalina, Port Union, Melrose and Little Catalina which are situated on the western coastline of Trinity Bay, Newfoundland and Labrador.
Here is a little information about Catalina's proud history:
(inc. 1958; pop. 1976, 1129). Situated on the eastern coast of the Bonavista Peninsula qv in Trinity Bay, Catalina adjoins the town of Port Union qv, home of the Fishermen's Union Trading Company established by Sir William Coaker qv. According to E.R. Seary (1971), the name Catalina probably derives from the French Havre SainteKatherine, later superseded by the Spanish Cataluna. As early as 1534, when Jacques Cartier spent ten days in Catalina harbour, the name was well established as it is clear from Cartier's accounts that he already knew the place by name and did not name it himself.
In the Sixteenth Century fishermen from the west coasts of England, France and Spain frequented the harbour and by 1580, claims Ernest Tilley in his serial account "Ye Olden Time in Catalina," Catalina had a permanent population of one hundred. Fishing remained the main occupation of the people of Catalina until the Twentieth Century. In 1981 it was primarily a commercial centre and site of one of the largest salt fish businesses in Eastern Canada, the Mifflin Fisheries Limited, and a large frozen fish plant operated by Fishery Products Limited. Blueberries and partridge berries are picked for commercial sale but because of poor soil there is little cultivation in the area.
Catalina was the first community outside St. John's to set up a public library. Joseph Clouter, a former resident, donated 5,000 books and the library opened in 1937. In subsequent years the Public Libraries Board granted it financial assistance and the success of the library at Catalina encouraged the Board to extend library services to other outlying communities.
Since 1583, when one of the men from Sir Humphrey Gilbert's qv expedition found what he believed to be gold in a cove nearby, Catalina has been famous for its Catalina Stone qv. When this stone was assayed in England it was found to be only "fool's gold" or iron pyrite. In 1877 Catalina again achieved notoriety when a huge squid, or cuttlefish as it was then called, was driven ashore in a storm. Two of its tentacles were 9 m (30 ft) long and 1.5-2.4 m (5-8 ft) wide; its body measured 2.7 by 1.8 m (9 by 6 ft). Such was its size that the squid was sent to St. John's for exhibition and an illustration and description of it appeared in the Oct. 27, 1877 issue of the Canadian Illustrated News. The squid was purchased by the New York Aquarium and served as the basis for a model of a squid in the American Museum of Natural History in New Yourk City. See LIBRARIES; SQUID. F.A. Aldrich (letter, Apr. 1980), Grace Butt (1957), H.A. Innis (1940), E.R. Seary et al (1968), Ernest Tilley (1957-58), DA (Apr. 1978), Newfoundland Settlement Survey 1954 (1954). Map G. PMH
Source Encyclopedia of Newfoundland and Labrador
Catalina Stone
Composed of iron and sulphur (FeS2), the common name of this stone is iron pyrite or "Fool's Gold." Found in the presence of "greywake" (a shale-like rock) it exhibits a cubic structure with a distinct yellow appearance which, it is said, deceived both Martin Frobisher qv and Sir Humphrey Gilbert qv, who ladened their vessels with the rock, under the assumption it was gold. Sir R.H. Bonnycastle (1842), J.B. Jukes (1842), Philip Tocque (1846) and D.W. Prowse (1895) all note the abundance of the rock at Catalina, Trinity Bay from which it was named and the presence of a cliff face composed of the stone in the area. Rev. L.A. Anspach (1819), however, claimed the material was "marcasite" and ventured into a lengthy discussion of its combustible qualities. Certainly the rock was thought to have been used in its natural state by the Beothuk as a flint and was reported by Anspach and Bonnycastle to have spontaneously ignited on the cliff face at Catalina. Iron pyrite is commonly found throughout the island of Newfoundland. L.A. Anspach (1819), R.H. Bonnycastle (1842), D.W. Prowse (1895), Phillip Tocque (1846), Derek Wilton (interview Feb. 1980). WCS
Source Encyclopedia of Newfoundland and Labrador